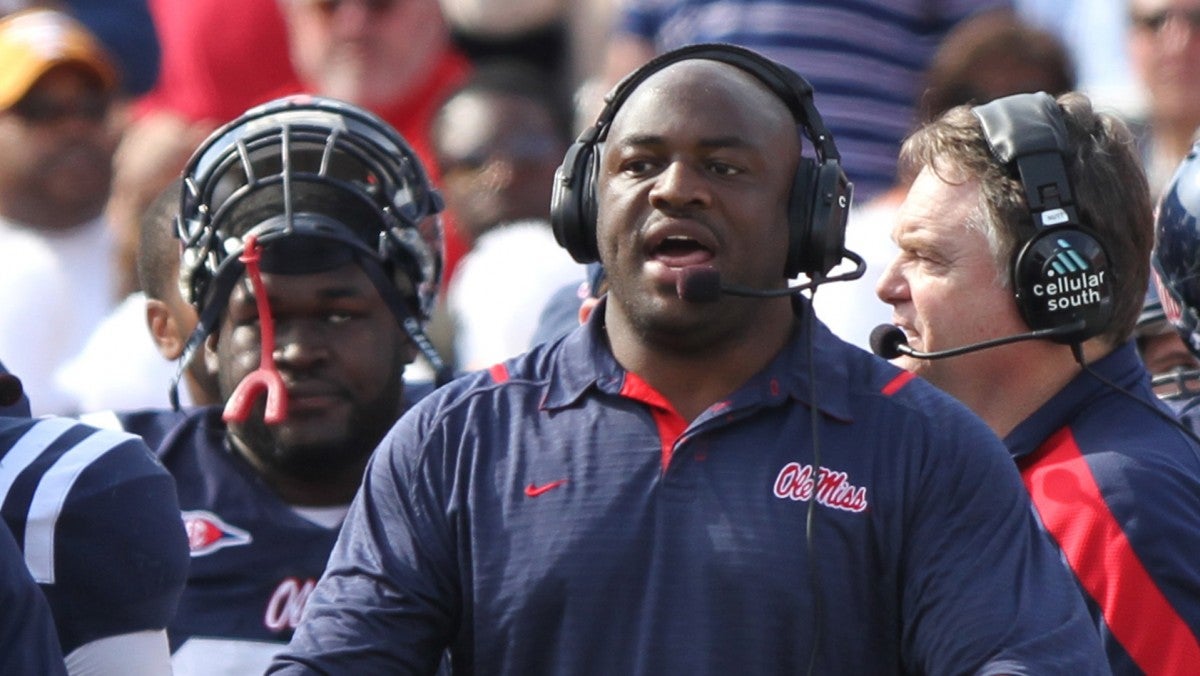 The Ole Miss Spirit recently caught up with Rebel outside linebackers coach Tyrone Nix to detail the progress of his position group in spring practices, the opening of the spring recruiting period and much, much more. Here's what he had to say …
Q: You've worked in the 4-3, 3-4 and 4-2-5 defenses. What are the advantages, in your mind, of the 3-4, and what are some of the things you have to guard against in coaching the 3-4?
A: The first thing about the 3-4 that I noticed is it really creates a problem for a lot of offenses from the standpoint of it's not as common a defense as the 4-3. All in all, it's going to boil down to the players you put on the field and the different job aspects that's required of each guy. A lot of schemes you can go in multiple directions, but we choose the 3-4 because we feel it gives us the best chance of succeeding and getting our team in position to win the game. The biggest thing I can tell you about a 3-4 is you're allowed to have more athletes on the field. The two stand-up guys — one to the field and one to the boundary — allows you the versatility to possibly bring three guys at one time, four guys at one time, five guys. It's not designated before the snap who's the fourth or fifth rusher. It creates more confusion from an offensive standpoint because you can't identify who the next guy is. The thing we like about our guys here is they're athletic enough to play out in space and play in coverage on slot receivers from time to time or match up on a tight end in a man-to-man situation. We feel like our 3-4 is going to create matchup problems for the offense, especially in pass protection where, hopefully, we'll get one of our better guys matched up on a running back. We feel like we're going to win in the majority of those situations.
Q: As far as the converted defensive ends, they've had their hands in the ground but are now standing up at outside linebacker. What's the hardest thing, do you think, in that conversion?
A: To get them to understand that it's not always a situation where we're rushing the passer. We have to read our keys and really be disciplined with our eyes. It takes a better athlete to play standing up. We feel like we have some special guys that are doing it for us right now. Sam Williams had a really good spring. Chuck (Charles Wiley) and Qaadir (Sheppard), all these guys have really made strides for us in being the type of outside linebacker we're looking for. I think they're going to bring a lot of versatility to our defense.
Q: How was Qaadir Sheppard's spring?
A: Qaadir had a great spring. He had a great transition in learning the scheme that we're asking him to do. He was probably our most dominant guy at the position, being a guy that can actually cover and doing some of the things we want him to do in the coverage aspects and also rushing the passer. I think in the spring game he led us in sacks and quarterback hurries. This scheme's going to really allow him to showcase his ability and give him a chance to be an impact player.
Q: How was Sam Williams' spring?
A: Sam is probably, maybe the most talented guy of the group. He showed flashes from the start of spring to the end. He probably made the biggest jump. He still has a long way to go as far as learning the fundamentals of the game and doing the little things in and out, but he has some things that you can't coach at times. That's just a knack for making a huge play at the right time. I got a big feeling for Sam. His summer progression's going to have to be really good for us to have the type of player that we want to have.
Q: How was Charles Wiley's spring?
A: Chuck, he got defensive most improved. I tip my hat to Chuck because he's a guy that, when I first arrived here, he was in the starting 11 and we really don't have a starting 11 yet. But he's a guy that had to change roles and positions. He hasn't batted an eye. His work ethic, his maturity, he may be the hardest working guy on the defensive side of the ball. I know at the outside linebacker position he is. And he's probably the most physical guy. We're going to use Chuck in a lot of different situations — passing situations and running situations. I love the way Chuck comes to work every day. He's going to have a heck of a season.
Q: Where is Luke Knox in his development?
A: I think Luke probably has the best effort of all the guys. He's a guy that's continued to gain weight and learn the position. The spring game was probably one of his worst performances of the spring, but all in all, he had a productive spring. He's learning as well as the other guys. The thing about Luke is he may be a little faster but he's a little smaller than the other guys. The offseason, he's going to really have to work hard in the weight room to add some size to him and also to learn the fundamentals of the position.
Q: Do you anticipate Brendan Williams having a role?
A: Brendan, he probably started out in my doghouse the most. He had the hardest time transitioning from d-end to outside linebacker. But I couldn't be more proud of B-Will. He stayed the course, he continued to work, he battled his own frustrations and continued to improve. Right now, I wouldn't be afraid to play him against Memphis or whoever we might be playing as long as he continues to give the effort and play with the passion that he has. I think he'll be able to help us as well.
Q: The spring recruiting period opened last Monday. What are your recruiting goals for outside linebacker in 2020?
A: The first thing we look for is toughness. We feel like that's something we're going to have to be — a tough defense, a more physical defense. The next thing is speed an athletic ability; guys that can really run and can make plays in space. Last but not least, a guy that has passion for the game, that loves the game. You can see it through his play. His play speaks for itself. A guy that has a true passion not only for playing the game but being a part of the Ole Miss family. We're looking for guys with that niche that's going to fit our program and be the type of defense that we're looking to be.
Q: Have any of the signees looked like outside linebacker candidates to you? Speaking specifically of Lakia Henry. Is he inside or outside, in your opinion?
A: From my understanding, (Ole Miss head) coach (Matt Luke) had a plan and understood what we needed by position. Lakia, he's going to be an inside linebacker for us. He's going to give us a chance to if not compete for a starting position there, give us a little more depth in that room. We signed two outside linebackers. Sam is already on campus. With what we're looking for, we have everything in this year's class that we have enough of. Next year, we're going to look for a little bit of everything.
Q: What is your overall assessment of the defense in the spring, and how close, do you think, is the defense to being game-ready?
A: We're a long way from being game-ready, but I think (Ole Miss defensive coordinator and secondary) coach (Mike) MacIntyre has given a blueprint out of what it's going to take for us to be successful. He's given them a scheme that gives them a chance to showcase the most of their abilities and it gives us a chance to win. I think our guys made big strides this spring. I think their confidence is really high at this point. It should be. But they also have to know that this is only the beginning. The remainder of the spring is learning opportunities throughout the summer. When we arrive in (August) camp, we can't be the same team that we were at the end of spring ball. We have to be improved from both a mental and physical standpoint. I have no doubt that these guys will be a group that you'll be proud to watch coming in and out of the stadium week to week. We'll continue to prove that throughout the season.
Source : https://247sports.com/college/ole-miss/Article/Offseason-QA-Ole-Miss-Outside-LBs-Coach-Tyrone-Nix-131417590/
Terima Kasih Telah Mengunjungi Website Ini
Check Out Our New Products !