Christian Harris signed with Alabama in December in the early signing period nearly one month after flipping his commitment from Texas A&M. He chose the Crimson Tide to put himself "in the best situation to be successful," even if it upset some of his classmates at University Laboratory (La.) School.
"A lot of people are really excited for me," Harris told BamaOnLine in an exclusive interview. "I mean some people at my school aren't, just because they're -- well, they're still excited for me, but they're a little upset because I'm not choosing LSU. But it's still all good. At the end of the day, it's all love, and everybody's just excited for me."
Harris will move to Tuscaloosa, Ala., on Monday, May 27, and will move into a dorm room with cornerback signee
Marcus Banks -- and potentially one more freshman. When he joins the UA football program later this month, he will attempt to learn as much as he can, especially from junior inside linebacker
Dylan Moses , who is another Baton Rouge, La., native that faced adversity for his collegiate decision.
"I talked to him on my official (visit) about it," Harris said of Moses. "He told me there's going to be people that's not going to like it. His situation was a little worse because he committed to LSU and the de-committed and committed to Bama. But it wasn't as bad as I thought it would be, but he just told me just tune them out and don't listen to what they say because, at the end of the day, they're really just caring what's best for them and what's best for LSU -- not necessarily myself."
The 6-foot-1.5, 235-pound linebacker will also lean on the Butkus Award finalist for advice as he learns a new position at inside linebacker. At University Lab, Harris played wide receiver, safety and returned kicks on back-to-back state championship teams that won 26 consecutive games. 
Inside linebacker, however, will be new territory for him.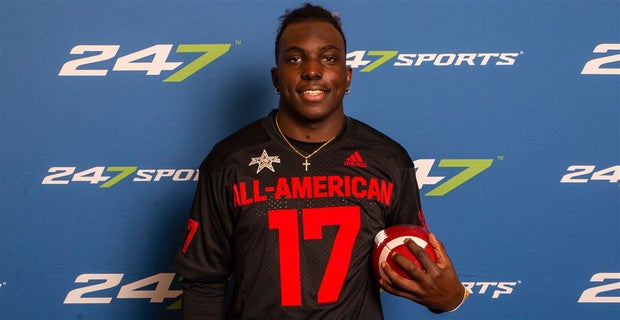 "I'm excited," Harris said. "I put my trust in Coach (Pete) Golding that he's going to lead me in the right direction and help with this linebacker position since I've never played it before. … Just from playing safety and corner so much, with certain coverages and scenarios, I would know what they're doing, and that will probably help me understand more just because I played really every position except for D-line. So, I have a little bit of background of what's going on, so I feel like that will help me learn the playbook a little faster and stuff like that."
Harris has been in routine contact with his primary recruiter and soon-to-be position coach
Pete Golding , who coaches the inside linebackers at Alabama and was named defensive coordinator this offseason. Golding checks in with his future pupil to make sure he is running and staying in shape. Harris is looking forward to learning under Golding once the Tide begins preseason practice in a few months.
"He's a real cool guy," Harris said of Golding. "It's real easy to talk to me, like, he kind of understands us, us freshmen, the players. He understands the way we think and stuff. And I feel like I can really talk to him about anything. That's just off the field. On the field, I don't know how he is on the field because I'm not a player there yet, but from what I'm hearing, he's a great coach. That's someone I would want as my coach."
When he arrives on campus and gets used to the summer conditioning that awaits him, Harris said he wants to dive into his playbook so that "if I do have a chance at possibly getting some playing time, I'm ready, I'm not going to be all confused and stuff. I'll be ready for the challenge."
As for the season, Harris explained his goals for his freshman year at Alabama. 
"I just want to see that I develop as a man on and off the field," he said. "You're going to go through a lot in the summer, you're going to have to push yourself, especially when it comes to fall camp because I've been talking to a lot of the players that have said how tough it is and you're going to face a lot of adversity. But it's about what you do with it when it comes to that certain point. You're going to have to push yourself.
"I'm not going in with the mindset that I'm going to just automatically start first year and all of that. I'm just trying to go in and learn as much as I can and still develop as a player, compete with everybody. So, as long as I do that, I feel like I will be fine."
Harris was the No. 4 inside linebacker and No. 71 overall prospect in the 2019 recruiting cycle, according to 247Sports. He enters an inside linebacker room in Tuscaloosa that features Moses and spring starter
Joshua McMillon but not a lot of experienced depth. While he is eager to learn from Moses and Golding as soon as he steps on campus, Harris said he still wants to compete in 2019.
That's ultimately why he chose the Crimson Tide.
"I put my trust in Coach Saban that he's going to develop me as a player and as a man on and off the field. And Coach Golding, as well," Harris said. "I want to be around guys that have that same mindset as me, that want to win championships, that's willing to do anything for the team and that want to get to that next level. Not just playing football just because it's cool to play in college, it's more than football." 
Contact Charlie Potter by 247Sports' personal messaging or on Twitter (>@Charlie_Potter).
*** >

Take advantage of 30% OFF our Annual VIP Pass for the first year
***
Source : https://www.cbssports.com/college-football/news/christian-harris-ready-to-learn-more-when-he-arrives-at-alabama/
Terima Kasih Telah Mengunjungi Website Ini
Check Out Our New Products !