6 December 2018, 14:27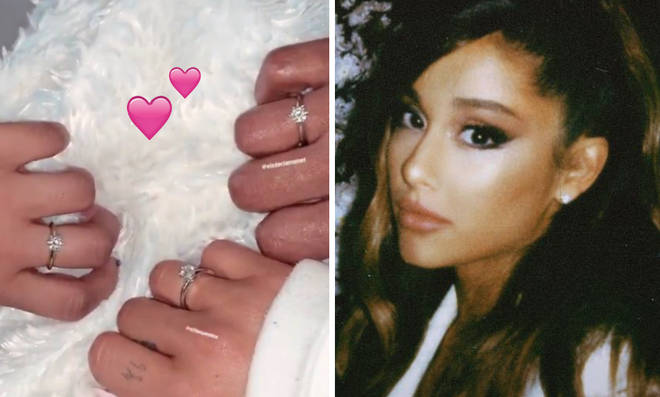 Ariana Grande may have only dropped 'Sweetener' this summer but she has a brand new album on the way full of new material, including a song titled '7 rings'.
And the track was inspired by the fact she treated her six closest gal pals to Tiffany rings to mark their friendship.
Speaking to Billboard about the inspiration behind the song, Ariana said: "It was a... challenging fall day in New York.
>Ariana Grande Ex-Boyfriends From Big Sean And Mac Miller, To Pete Davidson Split
"Me and my friends went to Tiffany's together, just because we needed some retail therapy.
"You know how when you're waiting at Tiffany's they give you lots of champagne?
"They got us very tipsy, so we bought seven engagement rings, and when I got back to the studio I gave everybody a friendship ring."
> View this post on Instagram

first wives club 2018 ...... @theellenshow tomorrow 🖤 i love you @victoriamonet @taylaparx ... thank u, next

A post shared by Ariana Grande (@arianagrande) on
During her chat with Billboard, Ariana - who broke off her engagement with Pete Davidson following the death of her ex-boyfriend Mac Miller - revealed she's been drinking lots of champagne while working on her new music.
"I don't think I've ever consumed more alcohol than I have in the past month," she said.
"I am champagne. You know how people say we're 60 percent water? I'm 60 percent pink Veuve Clicquot."
Talking about the inspiration behind her first Number 1 single 'thank u, next' she added: "It's me and my besties tipsy off champagne - and me with a broken heart - just letting it out and having fun. I love this more than any other song I've ever put out."
Source : https://www.capitalfm.com/artists/ariana-grande/7-rings-new-songs-tiffanys-friendship/
Terima Kasih Telah Mengunjungi Website Ini
Check Out Our New Products !