ESPN has predicted the top emerging sophomore for each of its preseason top 25 college football teams for 2019. Let's just say they didn't look outside the box in selecting Jaylen Waddle as Alabama's representative. The account by Alex Scarborough:
"It's easy to get swept up by what a stellar trio of Tide receivers accomplished as sophomores. Whether it's Biletnikoff Award winner Jerry Jeudy, speedster Henry Ruggs III, or national championship hero DeVonta Smith, there's a lot to like. They even have some awesome nicknames. But don't overlook a fourth standout: Despite his true freshman status and despite the depth ahead of him in 2018, Waddle managed to haul in the second-most receiving yards on the team (848) and tied for the third-most touchdowns (seven). In Ruggs and Waddle, Alabama might have the two most explosive receivers in the SEC."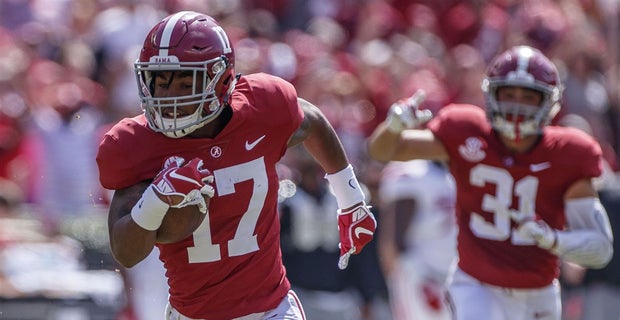 No one would be surprised to see Waddle have an exceptional 2019 season. After all, he was selected as a Freshman All-America by The Athletic and Southeastern Conference Freshman of the Year by the league coaches.
He's already high up in the Crimson Tide record book for his catch-and-run (from backup quarterback Mac Jones) 94-yard touchdown against Louisiana, second longest TD pass play in Alabama football history. And that play was almost all the run by Waddle after he took a short pass over the middle.
The first problem for Waddle being considered an "emerging" soph star for Alabama is that he's already established himself. The second problem is that he faces the same obstacles, as it were, in 2019 he faced in 2018. One, Jeudy, Ruggs, and Smith aren't going anywhere. Two, what team in its right mind is going to give him a punt return opportunity
Emphasizing that Waddle is an excellent choice for this or any other recognition he might receive, there any other Alabama sophomore that might be the selection were emphasis put on the "emerging" aspect?
There are different groups of sophomores -- those who were members of the freshman class who played for the 2018 team, such as Waddle; those who did not play or played so little as to be considered redshirt freshmen this season; 2017 freshmen who have been redshirted and will be third year sophomores this season.
Alabama has a number who might have been considered.
Alabama's coaching staff made various selections of players for honors following spring practice. They included upcoming sophomores:
Ozzie Newsome Most Improved Freshman Award – Linebacker Cameron Latu, linebacker Eyabi Anoma, and wide receiver Slade Bolden.
Bobby Johns Most Improved Defensive Back Award – Patrick Surtain II.
All of those meet the criteria as upcoming sophomores and are also in positions more easily highlighted than others, such as offensive lineman. Linebacker, defensive back and tight end would qualify as positions of need, which gives them more opportunities to be seen as emerging.
Waddle being selected as the Bama emerging sophomore to watch might seem to go against the conventional wisdom of making such a mark in a position stacked with stars.
Surtain also emerged as a freshman when he took over a starting cornerback job after Trevon Diggs was injured midway through last season. He was Freshman All-America by The Athletic and Freshman All-SEC by the league coaches. Another upcoming soph cornerback to be considered would be Josh Jobe, who saw action as a true freshman, notably when replacing the injured Savion Smith in the national championship game against Clemson.
Other true sophs upcoming include linebacker Ale Kaho, punter Sky DeLong, defensive back Eddie Smith, and linebacker Jaylen Moody.
Redshirt sophomores in positions of notice include linebacker Christopher Allen, defensive back Daniel Wright, quarterback Mac Jones, wide receiver-running back Chadarius Townsend, wide receiver Tyrell Shavers, linebacker Markail Benton, nose tackle Phidarian Mathis, tight end Major Tennison, and placekicker Joseph Bulovas.
Men classified as freshmen, but beginning their second seasons at Bama include redshirt freshmen wide receiver Xavier Williams, defensive back Jalyn Armour-Davis, linebacker Jarez Parks, running back Jerome Ford, defensive lineman Christian Barmore, and defensive lineman Stephon Wynn Jr.
Omitting Waddle and Surtain because they were breakout players as freshmen last season, our choice for an emerging sophomore for Alabama in 2019 likely would come from:
Anoma, Jobe, Tennison, and DeLong.
What would you say?
Source : https://247sports.com/college/alabama/Article/With-a-number-to-choose-from-ESPN-has-selected-wide-receiver-Jaylen-Waddle-as-the-upcoming-sophomore-to-emerge-for-Alabama-football-in-2019-132776534/
Terima Kasih Telah Mengunjungi Website Ini
Check Out Our New Products !